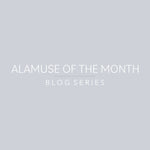 Alamuse of the Month: Edition No. 2
Our Alamuse of the Month blog series gives way to highlighting industry creatives, savvy entrepreneurs, multi-faceted models, musicians, etc. Each month, we'll take the time to get to know them: their origins, their unique heroic journeys, and get an exclusive peak into what's new for them. 
Next up in our series is Tsz Chan (pronounced as T)
@tsztime
, a Los Angeles-based entrepreneur and co-founder of Bolo (
@eatbolo
)...Hong Kong Toasted Butter Buns anyone? With a background in graphic design and consultation, Tsz is committed to helping businesses of all sizes, from small shops to Fortune 500 companies. But that's not all. Tsz is a self-proclaimed culinary aficionado with experience in competing (and winning) a variety of cooking competitions.  Did we mention she's also incredibly disciplined in the gym? Putting those Bolo fried chicken sandwiches to work if you ask us! We asked Tsz a few questions about her journey (both work and personal) and here's what she had to say about her own personal brand and staying true to her roots. There's also a few tips for the burgeoning entrepreneur looking to grow their online presence and relationships. Read for more. 
Tell us a bit about yourself.
Hi! I'm Tsz (looks bizarre but it's just pronounced as tea, like the drink) and I'm a graphic designer and founder / owner of @eatbolo, a fast-growing Hong Kong inspired fried chicken-sandwich concept. I have always loved food and design and after lots of trial and error, I'm happy to finally be able to craft a life that combines both worlds! 
How would you describe your personal brand?
That's a great question and to be honest, I'm still trying to figure that part out. Spanning across food, wellness,and lifestyle, I try to highlight the joy and deliciousness of the everyday. This carries through Bolo and my designs, as well as the recipe videos that I create during my spare time. 
What is Bolo and how did that come to fruition?
Bolo is a love letter to my childhood in Hong Kong. Bolo means pineapple in Cantonese and it's a beloved, fluffy bun with a cookie topping cut to look like the outside of a pineapple. I grew up eating them and decided to share them with others, but with a twist. 
I spent a year working on the recipes for my Bolo fried chicken sandwich...from the bun, to the fried chicken, all the way to the sauce and slaw. My friend and business partner, @joeyngoy signed us up for Smorgasburg and the rest is history. We currently have a location in Glendora Public Market and are in the works on constructing a second location. We've also been awarded by Eater LA two years running for serving one of Los Angeles' best fried chicken sandwiches. 
What do you think sets you apart?
My curiosity and being a multi-hyphenate for sure. As a graphic designer and business owner, I'm able to draw from my experiences and grow my own restaurant by thinking more strategically for both my design clients and social media audience. Thanks to my strong branding background, I was able to make @eatbolo look a lot bigger than we were in the beginning, which definitely helped with securing our first location. 
What's been the most exciting event/moment you've experienced work-wise? 
There's a lot of exciting ups in my work… a couple that comes to mind the first ever collaboration with Chick-Fil-A on a sando (sandwich), merching their fried chicken, and my buns from @eatbolo. The other would be seeing my designs in real life, such as my branding on the walls of Here's Looking at You. 
What advice do you have for up-and-coming entrepreneurs?
Good enough and done is better than perfect. We got into Smorgasburg despite having the perfect recipe and opened our first location during the pandemic. If I had waited for the perfect recipe or ideal conditions, I doubt Bolo would have ever come to life. 
If you want to build or create, take the first step! Perfection is unachievable but you owe it to yourself to cultivate your passions. You never know where it may take you.
Walk us through your typical day. Any special routine?
I try to wake up around 6AM to organize my day. My morning isn't complete without either weight training or balancing other exercises to work on my proprioception. I also look forward to shower time—it's where my best ideas come about! 
Afterwards, my day varies based on what's needed for Bolo and my graphic design practice. I spend my day staring at my computer screen designing so taking breaks during lunch and dinner is a must. I try to spend time making a full-on meal as a means of self care.  
I enjoy cooking so much that I started making short recipe videos on my page @tsztime. If there's one thing that I do miss during this past year and the last thanks to the pandemic, is having dinner parties with my friends. For me, making these videos help fill the void and allows me to share my passion with others. 
Do you consider yourself a "fitfluencer" and can we expect gym tutorials from you in the near future?
Did you go deep on my IG feed? (Yes, we're guilty as charged) I used to religiously record my gym routines when I first got into powerlifting ages ago! I don't think of myself as a fitfluencer; however, I'm just happy to share my progress! I'm branching out into mace bells now and more home-friendly workouts. There may be some stretch tutorials in the future...stay tuned! 
What's something most people may not know about you, based on your profile?
I'm really into all-natural skincare and massages! You can find me watching Youtube tutorials at night learning about DIY recipes on face masks and serums. Perhaps it's my age catching up to me or that I've been such a tomboy growing up. I'm trying to learn all I can about beauty and having fun along the way.  
Any new projects or adventures you'd like to share with our community? 
I'm committed to designing for good causes and growing Bolo this year. I'm also excited to start designing fabric patterns for Equipe Athletics as they create surgical caps for our beloved frontline healthcare workers. I actually came across their products when searching for something to gift my mom, who happens to be a nurse and because she needed a solution for her ears as they were rubbed raw by wearing N95 mask for far too long at work. With Equipe, their caps have buttons to hold up said mask, saving said ears in the process. 
As for Bolo, we're in talks to pop up in Hollywood at the newest concert venue called The Vermont. We miss being in LA proper and hope to bring our fried chicken sandos there! 
Finally, favorite ALAMAE piece(s) and why? 
Hands down, the Naomi High Rise Leggings and Naomi Double Strap Sports Bra in Mauve! I live in activewear and that color set makes me feel like I'm wearing a sundress out.
For more on Tsz, give her a follow on Instagram at 
@tsztime
 or better yet, support local businesses and order a fried chicken sando from 
@eatbolo
 over at Glendora Market!